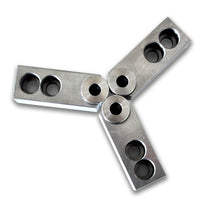 Why Choose AcroJaws?
INCREASE PRODUCTIVITY
Reusable lathe chuck jaws allow you to save precious time by changing the inserts only.
SAVE THOUSANDS
Save thousands of dollars per year by buying only the inexpensive inserts instead of full chuck jaw system.
BETTER PRECISION
Achieve .0002" (.005mm) runout/concentricity consistently.
MINIMIZE INVENTORY
Eliminate the need to buy and store jaws for different sized parts.